About Us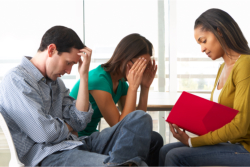 Founded by Joe Mardis, MS, LCPC, CRC, Nationally Certified Psychologist, Mardis Industrial Rehabilitation Services, in response to shifting needs, changed its name to Oceanside Counseling and Therapy.
Joe Mardis' career includes more than two decades of concurrent experience as a professor of psychology teaching general psychology and abnormal psychology, working with individuals with neuro developmental disorders, schizophrenia spectrum and other psychotic disorders, bipolar, depression, and addiction disorders. He also provided forensic expert testimony on workers' compensation and Social Security adjudicated cases, and is member of a team conducting ongoing research on risk of suicide among cancer patients. Finally, he was listed in the National Distinguished Service Registry, for outstanding service in rehabilitation, published in the United States Library of Congress.
While other companies continue to move toward a catch-all service model, offering every conceivable service as a marketing strategy, we have remained loyal to a simple principle, which is a holistic approach to serving individuals. In doing so, we remain cognizant that everyone is part of a larger system. When there is a breakdown in one of those systems, whether it is the job, family, or community system, individuals are affected in a myriad of ways.
At Oceanside Counseling & Therapy, our approach encompasses maintaining an awareness of the impact of these systems on individual functioning as we develop an individualized treatment plan. The goal of our comprehensive approach is to establish a serene and harmonious balance between the individual and the system(s) within which he or she functions.
We have a team of highly skilled professionals on both national and international levels consisting of physicians and licensed mental health experts. These individuals come with a wealth of experience to meet the needs of our customers.